Nutrition is at the core of integrative health and SpectraCell's Micronutrient Testing is the most advanced diagnostic tool available.
Micronutrient testing measures how micronutrients are actually functioning within your white blood cells. These tests allow your nutritional assessment for a broad variety of clinical conditions, general wellness and the prevention of chronic diseases including arthritis, cancer, cardiovascular risk, diabetes, various immunological disorders and metabolic disorders.
What is Micronutrient Testing?
SpectraCell's Micronutrient tests measure the function of 35 nutritional components including vitamins, antioxidants, minerals and amino acids within our white blood cells. Scientific evidence shows us that analyzing the white blood cells gives us the most accurate analysis of a body's deficiencies.
What results will I see?
SpectraCell's Micronutrient lab results include an overview page with all deficiencies listed, numeric and graphic reports easily identifying deficiencies and repletion and supplementation recommendations.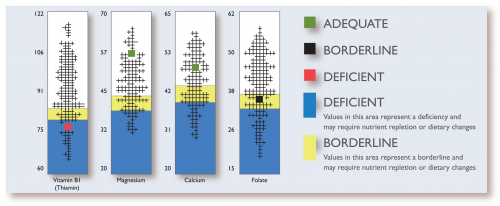 SpectraCell's tests are comprehensive
Hormone & Thyroid Testing
SpectraCell Laboratories offers comprehensive male and female hormone panels that reveal the overall state of hormonal balance in a patient. Like nutrients, hormones influence all aspects of health and disease – mood, sleep, metabolism, immunity, heart health and appearance. An imbalance of one hormone can initiate cascade of events that alters other hormones, so a comprehensive look at hormone status is key.
Thyroid hormones directly regulate every cell in our body as most basic functions like metabolism, emotions and thinking. We also test several proteins that affect thyroid function as well as antibodies to thyroid which can detect autoimmunity (when the immune system attacks healthy tissue) and your levels of cortisol, the stress hormone.
Hormones 101
Hormones are chemical messengers that are secreted directly into the blood, which carries them to organs and tissues of the body to exert their functions. There are many types of hormones that act on different aspects of bodily functions and processes.
Clinical Applications of Hormone Imbalance:
Fatigue & energy levels
Cardiovascular health (blood pressure, clotting, lipids)
Neurology (migraines, sleep, pain)
Mental health (depression, anxiety, cognitive function)
Immunity (infections, autoimmune disease)
Metabolism (blood sugar regulation, tissue repair)
Bone density (osteoporosis)
Physical appearance (skin, muscles, hair)
MTHFR
MTHFR is an enzyme responsible for converting 5,10-methylenetetrahydrofolate to the product 5-methyltetrahydrofolate – it is involved in the metabolism of folate and homocysteine. The product of the reaction catalyzed by MTHFR converts homocysteine (a potentially toxic amino acid) to methionine (a useful and necessary amino acid).
Risks Associated with MTHFR Variants/High Homocysteine:
Cardiovascular Disease
Cerebral Vascular Disease (Stroke)
Venous and Arterial Thrombosis
Methotrexate Toxicity for Cancer Therapy